Shelter. Food. Love.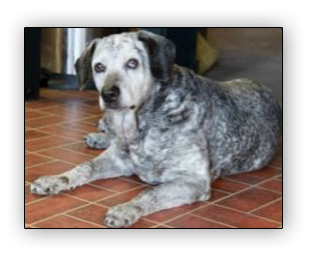 Smokey's story is much like the others at Hallie Hill. He wandered up to Hallie Hill in 1997. He was found collapsed outside our main fence suffering from severe head wounds and starvation. The employee who first spotted Smokey, mistook him for a scrap of fabric someone had tossed to the ground and described him as a "bag of bones".
After a few months of love and care, Smokey was far from starving. He enjoyed his time at Hallie Hill and spent his geriatric years tottering around the barn or sunning himself in the yard. He will forever be at home on Hallie Hill – resting in the cemetery.
Hallie Hill provides sanctuary to approximately 200 dogs and cats. Many of these animals bravely survived abuse and or neglect to arrive at Hallie Hill for the care and love they have always deserved. Within days of arriving, each animal is seen by a veterinarian to receive any and all medical attention they need to be healthy – from heartworm treatment to complex surgeries. Once the new arrival is healthy, they are introduced to an enclosure with plenty of space, a house complete with an automatic watering bowl, bedding, and heat lamps in the winter.
Our primary goal at Hallie Hill is to provide a loving home with all of the comforts possible to the animals for which we care.